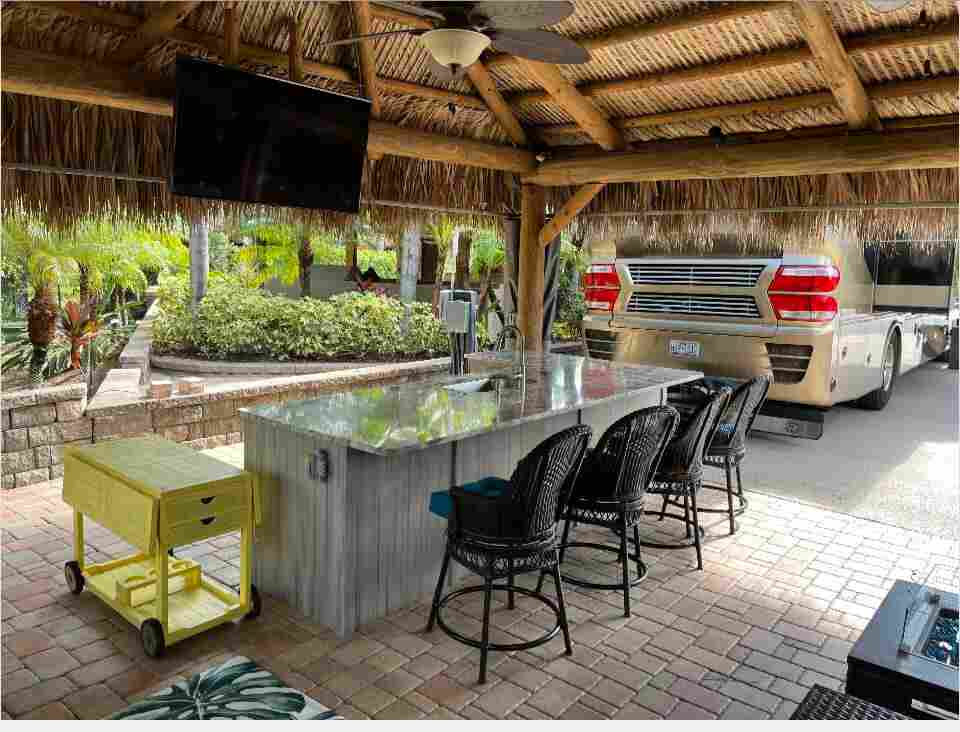 Welcome to Lot 72 NW Boundary Drive
This beautiful 3111 Sq foot living space provides all the comforts of home. Lot 72 backs onto the preserve providing extra privacy which is landscaped with plenty of mature trees and beautifully maintained shrubs and plantings. All the outdoor landscape lighting is automatically on timers, so you will never be in the dark. It is fully equipped with parking spaces for up to 3 vehicles, an oversized Tiki Hut that will shield you from the sunrays, and full hookups with 30/50 Amp service. Within the Tiki Hut itself, you will find plenty of seating for a large family, granite counter tops in the kitchen area with 4 high top chairs to eat at the counter. There are 2 lighted paddle fans installed in the ceiling of the Tiki, to provide extra lighting along with cooling on those humid days. There is a sink with plenty of hot water to clean with, a 5 gallon Ice Maker for those cold drinks, an under the counter refrigerator, a USB charging port with pop up plugs at the counter top to plug in your devices, and cabinets filled with dinner plates/glasses a serving for 4, a 2 burner induction cooktop and pots and pans at your service, along with a propane grill on the deck. On those chilly nights you can still maintain your outdoor entertaining with a propane fire pit to enjoy, along with Isinglass curtains if needed. To finish out the living space there is a 43' TV with sound bar for your enjoyment. Lot 72 is a little slice of Paradise to enjoy when you are vacationing at MotorCoach Resort Lucie West.
** Golf Cart not available for use.
Premium Lots: This lot has a large tiki, with full hookup, kitchen with a sink, a grill or cooking surface, TV, quality furniture, cable and WiFi, may or may not have curtains.
Paradise Awaits For You at 72 NW Boundary Drive

Rates are discounted by length of stay. A stay that is 7 days to 27 days is 10% discount, 27 days and over is 15% discount. Credit card services fees are 4%. Rentals less than 182 days are subject to 12% Florida hotel tax.

| Period | Dates | Daily |
| --- | --- | --- |
| Season | January through April | $195.00 |
| Early | October through December | $160.00 |
| Summer | May through September | $125.00 |
Bookings for Lot 72 - THE DATES BELOW ARE NOT AVAILABLE FOR BOOKING

| Dates | Lot |
| --- | --- |
| 10/01/2023 to 10/31/2023 | 72 |
| 01/01/2024 to 01/31/2024 | 72 |
| 03/01/2024 to 03/31/2024 | 72 |
| 02/01/2024 to 03/01/2024 | 72 |
| 07/25/2023 to 07/27/2023 | 72 |
| 09/01/2023 to 09/06/2023 | 72 |
| 08/30/2023 to 09/01/2023 | 72 |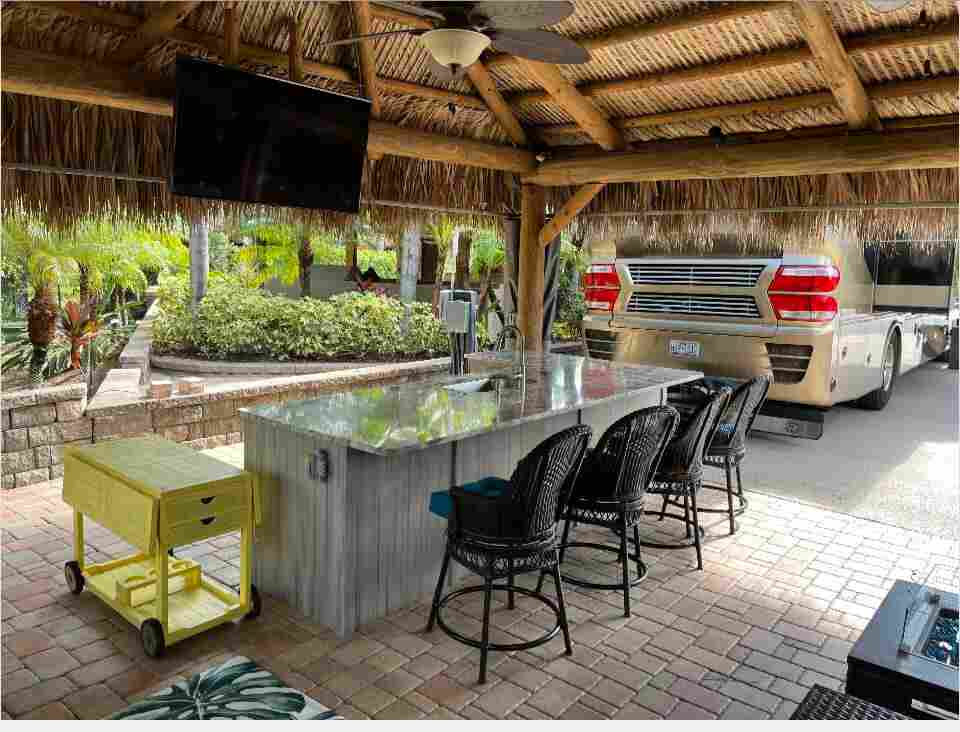 Cable TV
Provided by OpticalTel for phase 1 and 2, by BlueStream for phase 3


Tiki
Tiki hut has been installed on the lot


WI FI
This feature explains how to connect to the lot WI FI network




Luxury Class A RV Resort in St. Lucie West
Paradise Awaits Your Arrival at our Exclusive Class A Only RV Resort
Paradise Awaits Your Arrival at our Exclusive Class A Only RV Resort