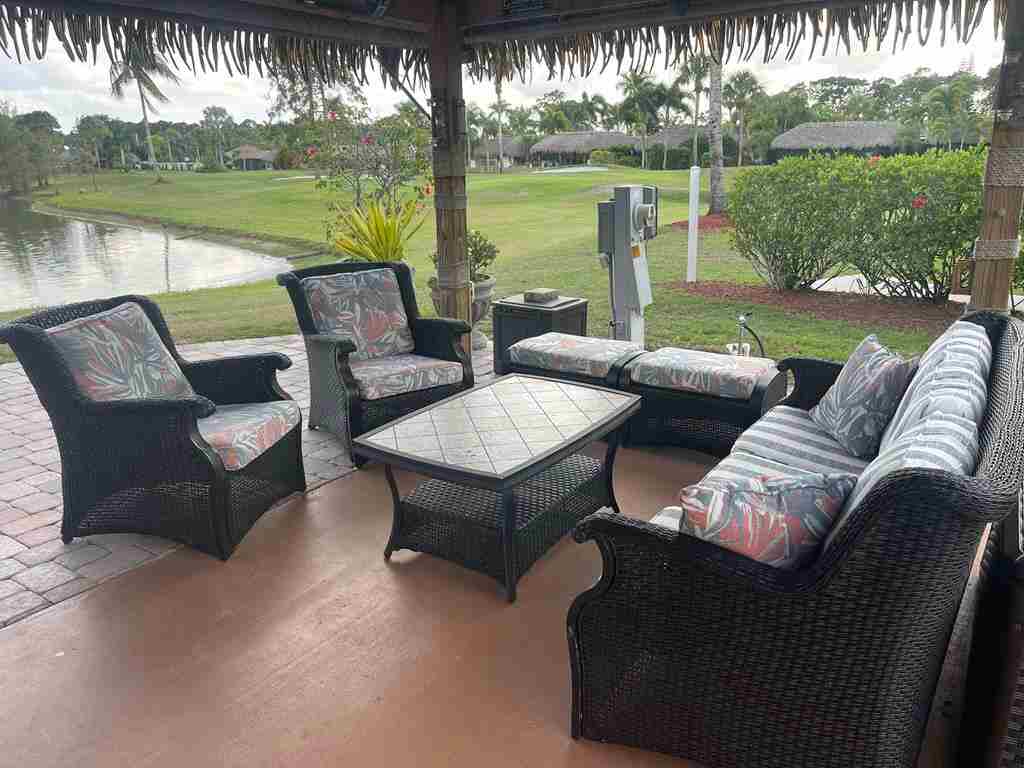 Welcome to Lot 465 NW Sandtrap Lane
Eat, Drink, Play, and Socialize in Luxury!
This back-in lot has a beautiful tiki with outdoor living space and cozy furniture with enough room for entertaining. The outdoor kitchen is located under the tiki hut, along with ample outdoor seating/living area. The living space becomes an integral part of your living area within just a few short steps! So convenient! You'll be surrounded by automatically controlled dusk-to-dawn landscape accent lights, uniquely private on all sides. And the view from the tiki hut reveals the professionally manicured golf course, large pond and water fountain directly in front. The sunsets are AMAZING!
The large tiki features a premium gas grill, single bar sink with hot and cold water, compact refrigerator, overhead fan, mounted outdoor heaters. Enjoy a meal or your favorite beverage while watching a show or or favorite sporting event on a 50' outdoor flatscreen smart TV .Overhead accent lighting at the top of the tiki, bottom of the outdoor kitchen and on each post of the tiki hut so you can adjust the lighting to the occasion, whether it be a dim candle light dinner or bright for entertaining guest. The tiki hut has a drop down privacy screens that can be lowered to reduce the sun, wind, rain or cold, yet still preserve the view of the golf course and pond. The decorative fireplace provides a beautiful glow to llight up the sitting area directly in front of the gold course. The perfect combination for the entire year!

Premium Lots: This lot has a large tiki, with full hookup, kitchen with a sink, a grill or cooking surface, TV, quality furniture, cable and WiFi, may or may not have curtains.
Paradise Awaits For You at 465 NW Sandtrap Lane

Rates are discounted by length of stay. A stay that is 7 days to 27 days is 10% discount, 27 days and over is 15% discount. Credit card services fees are 4%. Rentals less than 182 days are subject to 12% Florida hotel tax.

| Period | Dates | Daily |
| --- | --- | --- |
| Season | January through April | $195.00 |
| Early | October through December | $160.00 |
| Summer | May through September | $125.00 |
Bookings for Lot 465 - THE DATES BELOW ARE NOT AVAILABLE FOR BOOKING

| Dates | Lot |
| --- | --- |
| 05/10/2023 to 09/30/2023 | 465 |
| 01/01/2024 to 03/31/2024 | 465 |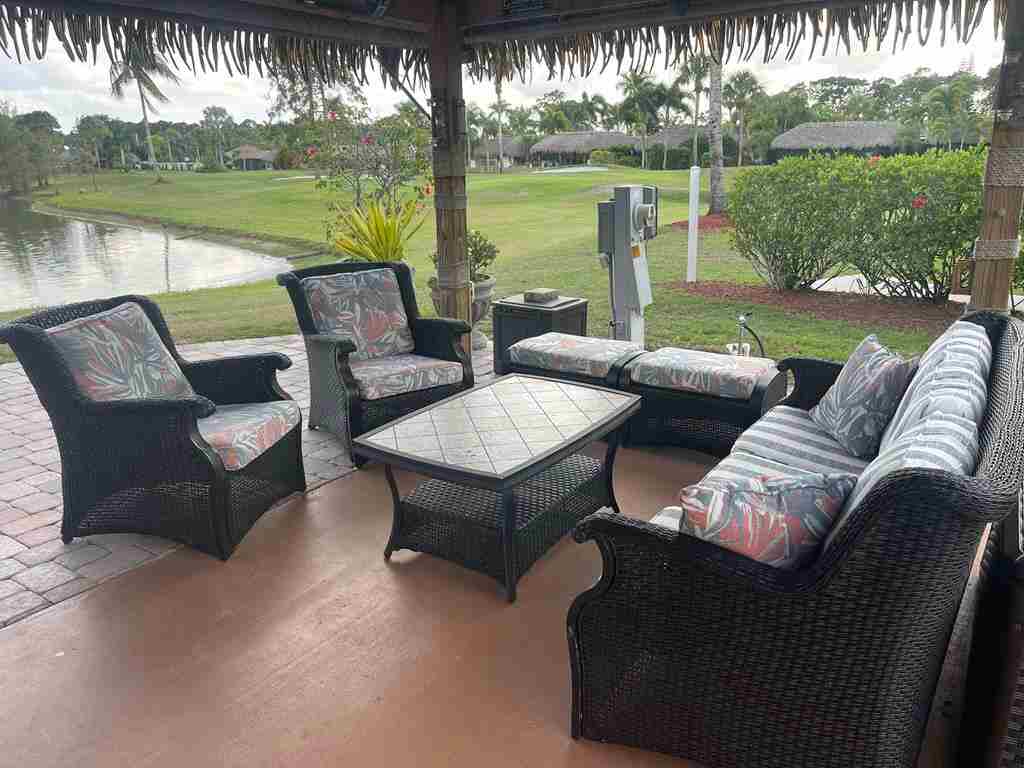 Cable TV
Provided by OpticalTel for phase 1 and 2, by BlueStream for phase 3


Fan Light remote controls
Tiki
Tiki hut has been installed on the lot


Tiki side curtains
These are side curtains for the tiki which can help to keep out wind and protect from inclement weather




WI FI
This feature explains how to connect to the lot WI FI network




Luxury Class A RV Resort in St. Lucie West
Paradise Awaits Your Arrival at our Exclusive Class A Only RV Resort
Paradise Awaits Your Arrival at our Exclusive Class A Only RV Resort