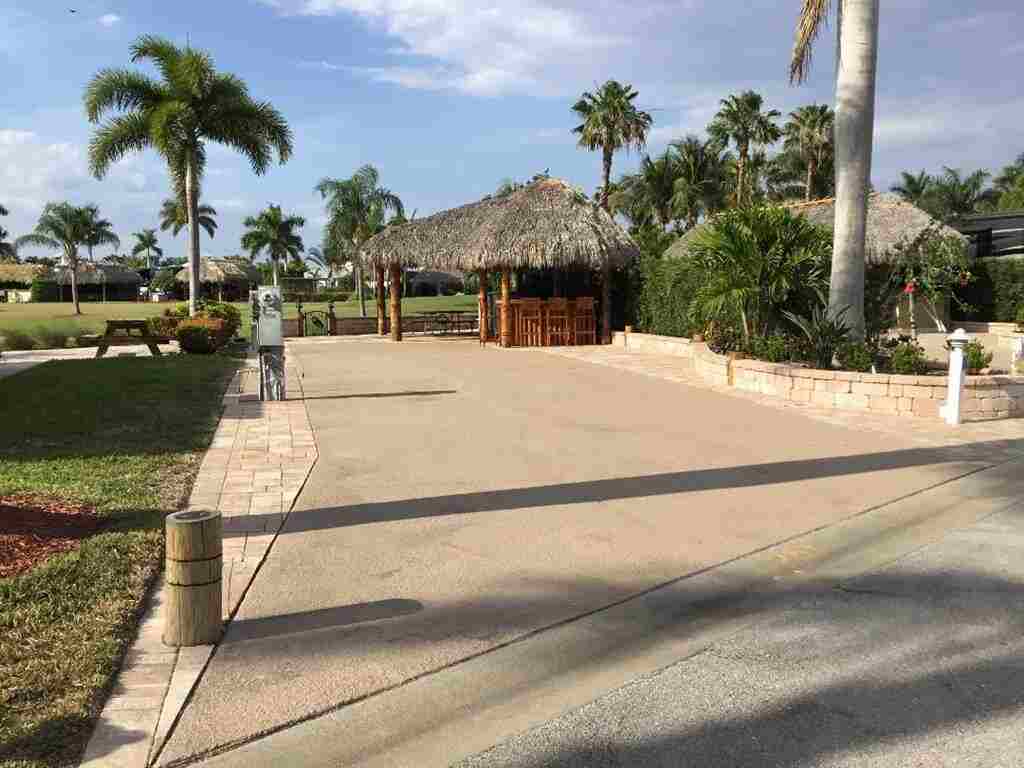 Welcome to Lot 251 NW Hazard Way
North/Northwest facing pull in lot enjoys stunning views of the lake with its lighted waterfall and some of the best sunsets! Waterfall view, plus tee to green view of this walk on 18 hole golf course make this a top rated pull in Premium lot with pavers, and large tiki with 50 inch television. Kitchen wooden bar top is beautifully finished. Kitchen includes chest freezer, beverage refrigerator, grill, reverse osmosis water filtration system, large stainless steel sink with hot water, oven plus picnic table, bar with four bar stools. New furniture includes a love seat, two chairs and table for conversation and viewing. Raised beds with beautiful landscape walls and pavers makes this site hard to beat!
Classic Premium Lots: This lot has a tiki with full hookup, concrete or paver parking pad, furniture, cable and WiFi.
Paradise Awaits For You at 251 NW Hazard Way

Rates are discounted by length of stay. A stay that is 7 days to 27 days is 10% discount, 27 days and over is 15% discount. Credit card services fees are 4%. Rentals less than 182 days are subject to 12% Florida hotel tax.

| Period | Dates | Daily |
| --- | --- | --- |
| Season | January through April | $195.00 |
| Early | October through December | $160.00 |
| Summer | May through September | $125.00 |
Bookings for Lot 251 - THE DATES BELOW ARE NOT AVAILABLE FOR BOOKING

| Dates | Lot |
| --- | --- |
| 05/15/2023 to 05/24/2023 | 251 |
| 08/09/2023 to 08/16/2023 | 251 |
| 09/04/2023 to 09/15/2023 | 251 |
| 06/12/2023 to 06/25/2023 | 251 |
| 01/15/2024 to 04/15/2024 | 251 |
| 10/25/2023 to 11/08/2023 | 251 |
| 11/26/2023 to 12/03/2023 | 251 |
| 07/06/2023 to 07/09/2023 | 251 |
| 07/11/2023 to 07/14/2023 | 251 |
| 07/09/2023 to 07/10/2023 | 251 |
| 07/25/2023 to 08/02/2023 | 251 |
| 12/29/2023 to 01/02/2024 | 251 |
| 08/02/2023 to 08/04/2023 | 251 |
| 08/04/2023 to 08/09/2023 | 251 |
| 08/16/2023 to 08/17/2023 | 251 |
| 09/15/2023 to 09/18/2023 | 251 |
| 10/19/2023 to 10/25/2023 | 251 |
| 04/22/2024 to 04/25/2024 | 251 |
| 04/26/2024 to 05/09/2024 | 251 |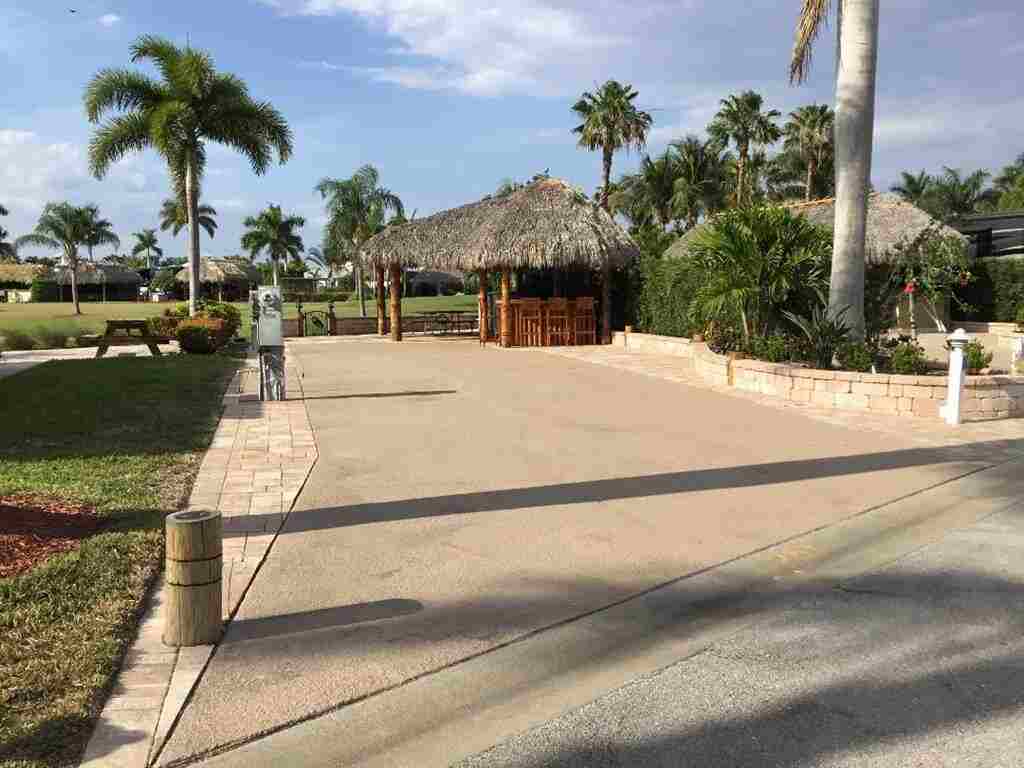 Cable TV
Provided by OpticalTel for phase 1 and 2, by BlueStream for phase 3


Tiki
Tiki hut has been installed on the lot


WI FI
This feature explains how to connect to the lot WI FI network




Luxury Class A RV Resort in St. Lucie West
Paradise Awaits Your Arrival at our Exclusive Class A Only RV Resort
Paradise Awaits Your Arrival at our Exclusive Class A Only RV Resort