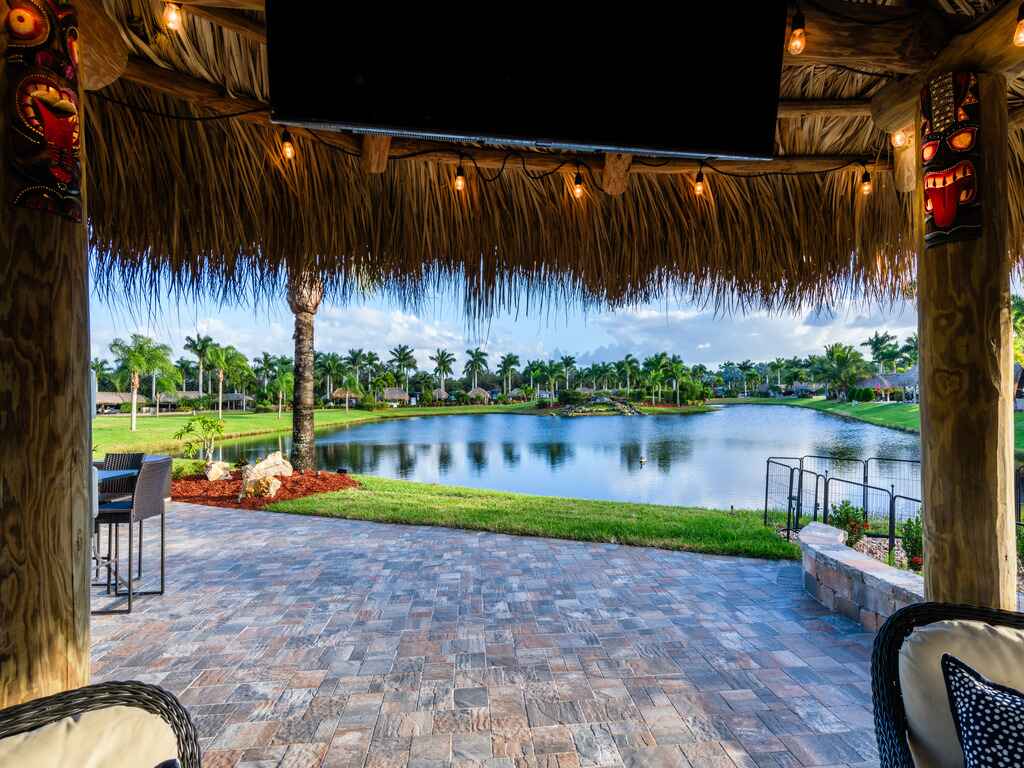 Welcome to Lot 217 NW Chipshot Lane
Premium Lots: This lot has a large tiki, with full hookup, kitchen with a sink, a grill or cooking surface, TV, quality furniture, cable and WiFi, may or may not have curtains.
IT'S ALL ABOUT THE BREATHTAKING VIEW! This stunning southeast-facing pull-in site offers uninterrupted vistas, both from inside your coach and on the patio. You'll be captivated by the only double-sided waterfall in the resort, its soothing sounds, and the vibrant sunrise and sunset skies. Lounge beneath the Tiki and enjoy the brand-new Samsung 65' TV. The fresh furniture arrangement provides various seating options strategically placed for the best lake and waterfall views. Whether you prefer waterside dining, coffee by the water's edge, bar hangouts, or relaxation on the shaded living room-style sofa and chairs, 217- Slice of Paradise ensures an unforgettable stay.
The kitchen boasts granite countertops, a spacious insulated sink, instant hot water, a full-size refrigerator with an ice maker, a separate beverage fridge, and a brand-new Napoleon 4-burner gas grill.
This recently renovated paver lot is surrounded by mature landscaping and elegant landscape and tiki lighting, enhancing the illuminated waterfall across the lake. With its convenient location granting easy access to nearby pools, clubhouse, pickleball, bocce, and tennis facilities, can you even imagine staying anywhere else?
Paradise Awaits For You at 217 NW Chipshot Lane

Rates are discounted by length of stay. A stay that is 7 days to 27 days is 10% discount, 27 days and over is 15% discount. Credit card services fees are 4%. Rentals less than 182 days are subject to 12% Florida hotel tax.

| Period | Dates | Daily |
| --- | --- | --- |
| Season | January through April | $195.00 |
| Early | October through December | $160.00 |
| Summer | May through September | $125.00 |
Bookings for Lot 217 - THE DATES BELOW ARE NOT AVAILABLE FOR BOOKING

| Dates | Lot |
| --- | --- |
| 01/05/2024 to 02/05/2024 | 217 |
| 11/17/2023 to 11/20/2023 | 217 |
| 03/16/2024 to 03/30/2024 | 217 |
| 09/27/2023 to 10/02/2023 | 217 |
| 10/05/2023 to 10/12/2023 | 217 |
| 12/26/2023 to 12/30/2023 | 217 |
| 02/17/2024 to 02/22/2024 | 217 |
| 03/03/2024 to 03/07/2024 | 217 |
| 03/30/2024 to 12/01/2024 | 217 |
| 02/10/2024 to 02/17/2024 | 217 |
| 02/25/2024 to 02/28/2024 | 217 |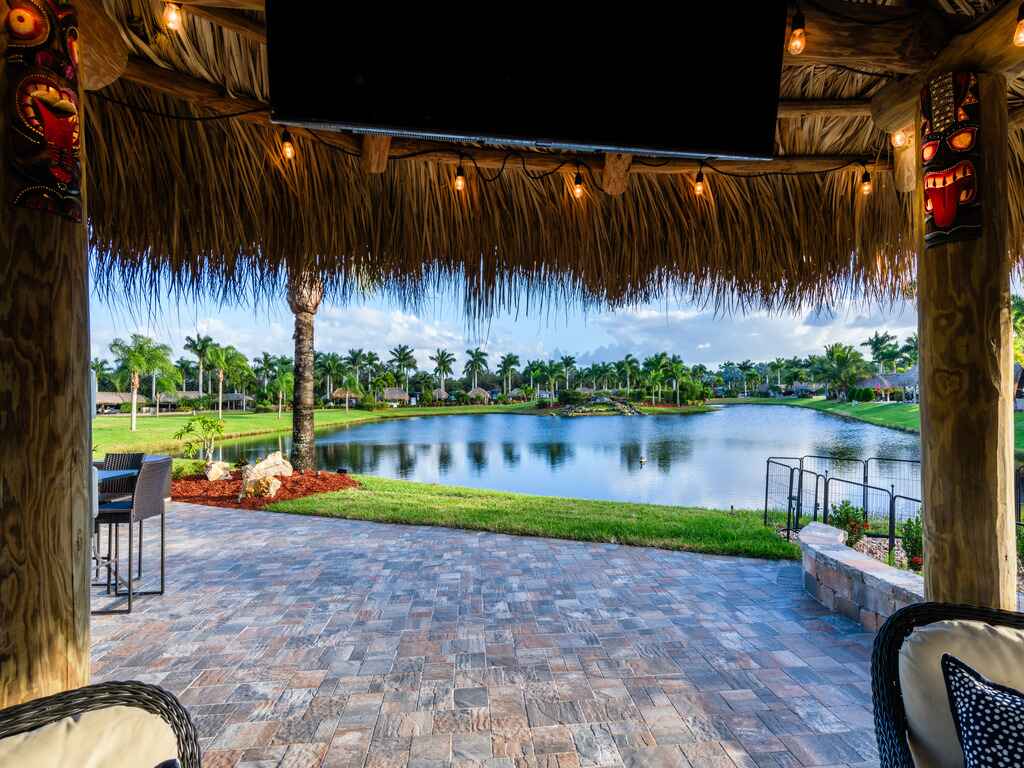 Full Size Refrigerator W/ Ice Maker
Luxury Class A RV Resort in St. Lucie West
Paradise Awaits Your Arrival at our Exclusive Class A Only RV Resort
Paradise Awaits Your Arrival at our Exclusive Class A Only RV Resort